The Future of Digital Loyalty
How applying a product mindset can help loyalty programs
EVENT TRANSCRIPT: SESSION 1
This is a transcription of Joel's keynote session from our Digital Loyalty event recorded in February 2022.
Good afternoon / evening everyone. My name is Joel and I'm one of the MDs at Red Badger. Over the last few years, I've been working with clients mainly in the retail, hospitality and financial services sectors.
Today I'm going to share a few of my thoughts on the way modern loyalty is headed and how applying a product mindset can help loyalty programs. But first it's probably worth me giving you a brief intro to Red Badger.
We work mainly with large organizations and scale-ups, and we're typically engaged solving problems and building digital products that are core to the ongoing success of these organisations. These are the kinds of complicated challenges that excite us and having the opportunity to influence the long-term success of our partners and putting their customers at the center of everything we do really motivates us.
We believe that all companies are digital product companies, whether or not they've realized this yet, it's just a matter of time. I've personally spent the last 20 years helping organisations with digital transformation. I've seen the transition from businesses that try to use technology as a strategic advantage, to the successes of those who have embraced technology and digital and made it core to their businesses.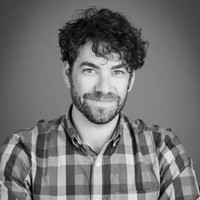 Joel Williams
Managing Director, Red Badger
Ryan is an established technical Product Manager with a track record of success. He currently runs two full product teams at Nando's, overseeing the Digital Loyalty and Identity teams with the intention to deliver amazing end-to-end digital experiences for customers. He has also led international teams and delivered global solutions for Shell before joining Nando's.
GET IN TOUCH
Over the last five years especially, there's been a mindset change and companies born as product companies are infinitely more successful without any of the baggage of larger incumbents. Many of the clients we work with are experiencing significant digital disruption in their markets from those born as digital products. A great example to highlight this is the traditional big banks having to respond to challengers like Monzo and Starling.
I think most of us have experienced interacting with one of those challenger banks and I've seen the results of a product mindset versus the traditional way of doing things. The entirety of banking services provided by Monzo is designed around the customer from the ground up as a fully-featured coherent digital product, at Red Badger, we're helping organisations be more digital product minded, instilling that continuous product delivery mindset. I want to take 30 seconds to set the scene for modern consumers.
I know Chris is going to get into a lot more detail on this and Gen Z specifically a bit later. So I won't labour the points too much, but consider this a bookmark to insert a lot more insights in a few drinks time.
Why do brands struggle with Customer Loyalty?
Need to provide equitable value exchange
Loyalty programmes can go stale
Customer retention is difficult
Need to cut through the noise
The key consumer trends over the last 10 years have led to an infinitely more connected consumer with access to always on digital. It's not just sitting there passively in the background either. It's shouting out for attention with things like notifications. All the time. Access to the customer has become much easier as the barrier to entry is lower.
However, this has also become more fragmented with many more channels or spaces where customers want to engage. Expectations around what a great experience across channels should be, have already elevated, especially by these digital-first product organisations. Everything needs to be joined up, integrated, easy and instant.
Standing out in our space is really hard.
So why is loyalty difficult?
I've pulled out a few interconnected themes which may resonate.
It needs to provide an equitable value exchange. What behaviour am I encouraging you, as a customer, to do more of?
And what am I giving you in return?
Consumers have higher expectations, especially around where they derive value. It's not just the free coffee. These higher expectations come at a time where the cost of providing benefits has increased and that value exchange still needs to work for the business too, in terms of an investment to drive.
"Loyalty programs can also go stale, pure points-based schemes, are no longer enough to entice membership and drive loyalty on their own, meaning enthusiasm can be low and there is slower participation and uptake."
Joel Williams, MD at Red Badger
Loyalty programs can also go stale, pure points-based schemes, are no longer enough to entice membership and drive loyalty on their own, meaning enthusiasm can be low and there is slower participation and uptake. As time goes on, this can also mean reduced penetration. And if penetration drops, this can also impact the value for the business in our exchange.

So we're giving away too much and not generating an increase in customer outcomes. But retention is really difficult. Competition is fierce, especially with the direct to consumer brands as the barrier to entry for those brands is so low. Platforms like Instagram make it really easy to target individual customers. Retention really relies on the customer perception of your brand and having an emotional connection beyond just points and rewards.

Finally, always-on consumers and the sheer volume of digital channels means cutting through that noise is difficult. The number of schemes people engage with is not high and stickiness is difficult. The average number of schemes participated in is around 15, six of which are actually used regularly.

So brands that are doing well, understand the customer's values and likes and try to create an emotional connection. So here's how things are changing for loyalty. And in a lot of cases, they already have changed. We know that feeling connected to a brand's purpose and having a personal relationship, caring about what the brand stands for results in more engaged customers.
Loyalty Direction of Travel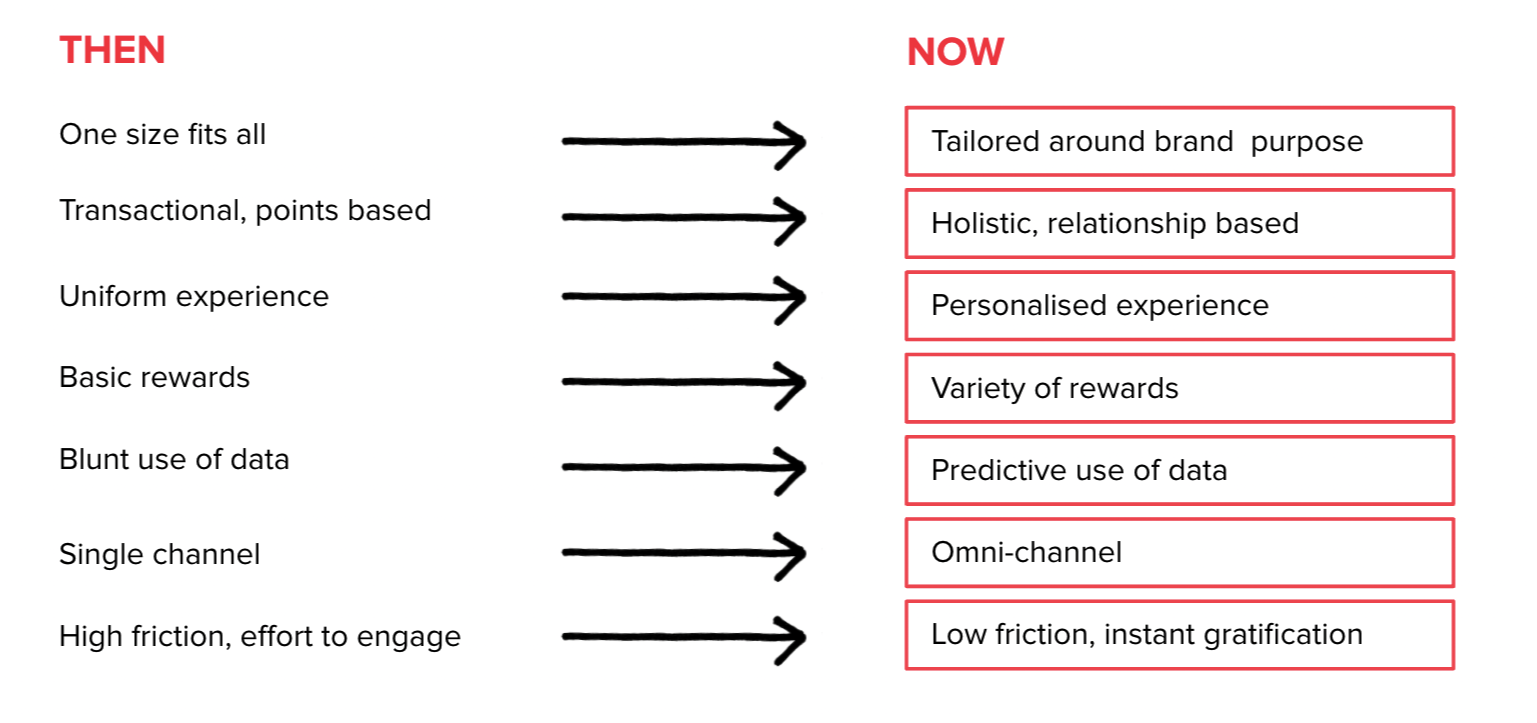 We are increasingly seeing loyalty experiences tailored around brand purpose as a move towards a more holistic relationship with a customer rather than a purely transactional one.

That means offering a variety of rewards depending on the individual, and maybe choosing the moment that reward is offered and associating with specific contexts. There's so much opportunity around data, moving it closer to the experience and using it to influence before. All of these things together, highlight the shift to a lower friction experience, which can in turn, deliver more instant gratification.
I guess the point I'm trying to make here is things got complicated. This really isn't something that you can just buy off the shelf anymore. Data has always been a huge part of loyalty from a commercial viability point of view in order to maximize that customer lifetime value. Historically, this has been taking place behind the scenes and the data lake far removed from the customer experience, but there's far more opportunity to be using that data intelligently.
And Starbucks is a great example of this. They launched an AI platform called Deep Brew in 2019. I think chess fans will appreciate that name. It's a machine learning platform sitting on top of decades of customer data. That clever use of this data enables a very personalised experience, but it can also enable Starbucks to push tailor-made recommendations according to the time of day and the frequency with which a customer may usually visit.

For example at one of their locations, it could recognise Joel has normally picked up his flat white at Liverpool street by now. "How about we send them an offer in case he's nearby and forgot about his caffeine fix?", which would obviously never happen.
Another area I'm finding really interesting right now is the paid loyalty space or premium loyalty programs as that is sometimes called. It's essentially a program where a subscription brings a bundle of benefits. Think Amazon prime as a prime example.
This is an evolution beyond the standard subscription model where you're effectively just subsidising the cost of something that can't be given away for nothing, like delivery. What's clever here is bundling together multiple benefits that are all of interest. Once the customer is part of a paid scheme. They'll use that scheme to take full advantage of the benefits. So as these charts show, they'll buy more frequently.

There'll be more likely to buy from you and they'll spend more money on each transaction. So as you can see from the research, the value generated by the changing customer behaviour is altering how brands are starting to think about premium loyalty.
"Stop treating loyalty as though it's a separate entity and focus instead on how customers are interacting with your brand, you need to be thinking about how to reward all behaviour across all parts of your product."
Joel Williams, MD at Red Badger
A great example of a premium loyalty program with loads of the stuff on the right-hand side of that list I showed you a minute ago, it's Lululemon.

They're experimenting with a subscription-based loyalty program that carries a variety of benefits. That's free products when you sign up, ongoing discounts, access to online workout sessions, physical in-store events, like early access sales and in-person physical activity sessions.
It's being piloted in a number of cities in the US and Canada and wherever it's launched. It's a mixture of transactional and experiential benefits. And that's an example of a brand putting loyalty at the centre of that business and how they identify with our customers.

And, leisure is a really competitive playing field, but focusing on their brand values and rewarding loyalty that resonates with their customers is really, really smart.
Paid Loyalty Programmes Change Customer Behaviour
*Source: McKinsey Digital Loyalty Survey 2020
I guess the question we can ask ourselves is can we make loyalty central to our business? So what does this mean for your customers, your product and your businesses?
Stop treating loyalty as though it's a separate entity and focus instead on how customers are interacting with your brand, you need to be thinking about how to reward all behaviour across all parts of your product.

For all customer types, you need to be offering a far more nuanced experience for the customer at the centre. As we saw from that Lululemon example, they put loyalty at the centre of what they want their brand to be. It's an extension of the experience, making it meaningful and part of the IP of the business. The more we think about loyalty in this way, the more woven into the fabric of a business it becomes it's about understanding the experience your customers want to have with your brand, what their values are, what's important to them and how you can create that mutually beneficial two-way relationship, which brings us back to some of the points I was making at the beginning about that product mindset.
It's about putting our customers at the centre of everything we do and instilling a continuous product delivery mindset. If you're continually releasing updates to your customers, you can get closer to their needs by understanding what they really want.

Through short feedback loops and a test and learn approach. It's not about large projects anymore with a single big investment, fixed duration, that carries significant amounts of risk. It's about smaller continuous investments consistently delivering value to your customers resulting in incremental returns on that investment.
So finally, in conclusion, I want to leave you with two thoughts.

Firstly, we can treat the loyalty ecosystem as a product, having a product thinking mindset. It's right. Your loyalty program around your customer will lead to far greater success. I know that Ryan's all over this approach and there'll be sharing some of his thoughts in a minute. And secondly, loyalty can be a revenue-generating product in its own right.

Moving forward, you might want to think about how your loyalty program can be closer to your core brand values and maybe even a revenue stream of its own. Thank you very much.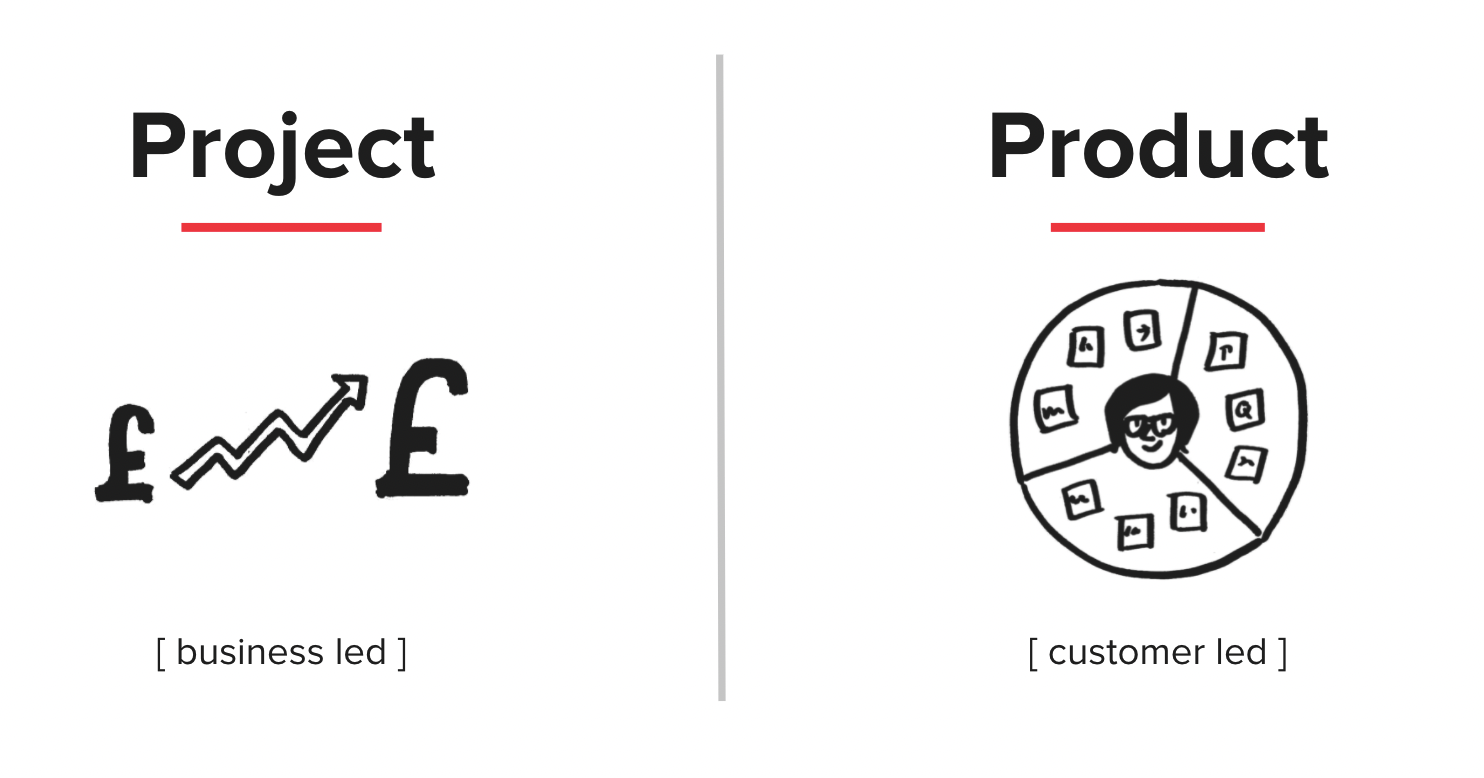 Watch the full on demand recording of this event
NOW ON-DEMAND
Nando's and The Future Laboratory share their vision for world-first customer loyalty programmes
76% of Generation Z believe their favourite brands should reward them for their patronage. Soon to become the most numerous and diverse consumer group on the planet, how do you build a loyalty product that caters to their super-charged demands, meets them where they are (on their smartphone), and gives them what they want?
WATCH BELOW
BLOG
How Gen Z think about loyalty and why you need to align your strategy to meet their needs
LEARN MORE