Multi-cloud platforms are here:
How WebAssembly, NATS and wasmCloud can move us beyond the cloud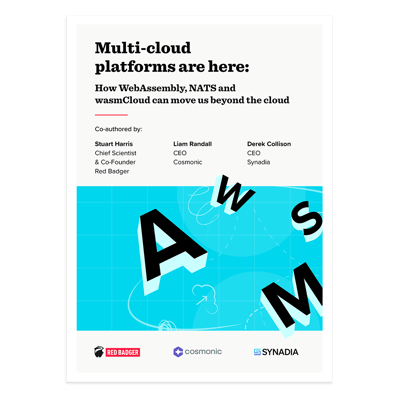 The use of WebAssembly server-side is contributing to a major revolution in platform design, moving us beyond (or above) the cloud as a destination. Coupled with products like wasmCloud and NATS, WebAssembly is creating a whole new paradigm for Cloud Native, eliminating classes of problems and creating simplified, robust and secure platforms for distributed applications.
With contributions from Liam Randall, Cosmonic's CEO and Derek Collison, CEO of Synadia and creator of NATS.io, our latest white paper written by our Chief Scientist, Stuart Harris, maps out the journey to a truly resilient multi-cloud platform.
Download the white paper to find out:
➤ Why the days of cloud vendor lock-in are over and how you can start to view cloud providers as a utility provided from anywhere, better manage cloud costs and innovate faster

➤

How you can build truly resilient platforms that self-heal across clouds while remaining unaware of underlying topology and vendor-specific products
➤ Why Wasm provides an ultra-secure way to deploy open source software and continue to take advantage of new innovation
➤ How the combination of Wasm, NATS and wasmCloud combine to create an enhanced developer experience that will attract and retain the best engineering talent



The power of NATS: Modernising communications on a global scale
The cost of delivering value to customers is exorbitant (and slow) because of the complexity of microservice applications. Coupled with cloud infrastructure and fragmented networks across systems and locations, blue chips and other large enterprises are struggling to provide exceptional digital experiences when customers need them.

Something is missing - and that missing piece is connectivity.

To execute on a global scale and get value to customers as quickly as possible, the way applications communicate must be reimagined.

In this video, Derek Collison, CEO of Synadia (and creator of NATS.io) and Stuart Harris, Red Badger's Chief Scientist explain how NATS can help large organisations deliver technology and services across the globe and solve some of the challenges of working with microservice applications in the process.
MEET THE AUTHORS
Learn from industry experts
Stuart Harris
Chief Scientist & Co-Founder, Red Badger
"This paper explores where we are today in terms of platform design and outlines how the application of a collection of new and established technologies, combined in a novel way, represents a significant opportunity for the enterprise. It marks a step-change in how to deploy a genuinely multi-cloud platform that will satisfy even the strictest regulatory requirements."
Derek Collison
CEO, Synadia
"NATS provides developers and operators with a cloud and edge native open-source connective platform that is cloud agnostic, secure by default, and transparently scalable on a global basis. Combining NATS with emerging platforms like wasmCloud provides developers with the ability to accelerate innovation without worrying about being locked into proprietary systems."
Liam Randall
CEO, Cosmonic
"Our goal is to enable developers to deliver truly portable applications, both in terms of where the applications execute and the capabilities they deliver -- thus bringing the joy back to distributed application development. Moving these common components to the platform with wasmCloud gives developers the ability to write software more quickly, operate it across boundaries, scale it to meet demand, and at a lower operational cost."