IMPACT
---
One product adopted across 21 countries
---
Accelerated design and build speed to market
---
Digital experience to reflect the brand
---
Regular flow of thought leadership content
A unified design and build project for a global investment leader in four months
Fidelity International (Fidelity) is a global leader in investment, it manages $310bn globally for clients who range from private individuals to institutions like pension funds and sovereign wealth funds. It has been innovating for 50 years in 25 countries.

They recognised that it had a fractured web strategy for institutional clients, sometimes combining them with other client groups or, in some markets, not offering any web content at all.

With an ambitious brief, Fidelity chose to work with Red Badger to create a digital presence that would unite the company's disparate global sites, showcase its capabilities, and highlight its thinking, without overwhelming the reader. Ultimately, the new website needed to give visitors a taste of the lengths Fidelity will go to for clients.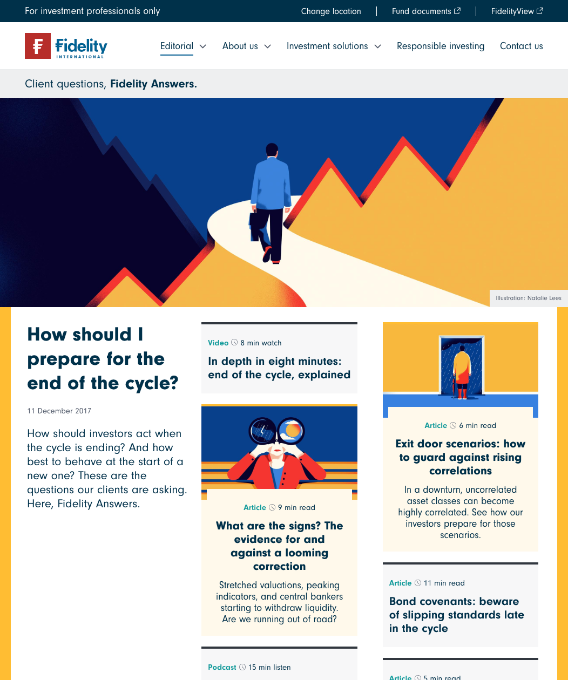 We worked closely with Fidelity Institutional to define a project vision, creative strategy and implementation roadmap that we then delivered on to provide a site that is a new benchmark for them in terms of content and execution. The new site has helped them articulate their story with pride and distinctiveness – it also positions them as thought leaders in their industry.
We solve complicated problems in complex places
Red Badger is the product transformation consultancy for blue chips. Our product design capabilities and technical pedigree build high-performance digital platforms that get you closer to your customers and embed new ways of working. Your journey to an agile, innovative digital product organisation starts today.