IMPACT
---
Within 3 months, over 300,000 customers had added the card to their mobile wallet
---
Loyalty registrations doubled compared to the same period of the previous year
---
The percentage of orders earning loyalty went from 33% to 66% and reward redemption jumped from 6% to 18% of orders
---
Removed £200k of annual plastic card production cost from the business
Transforming the existing Nando's 'plastic card' reward programme into a digital-first journey

The Nando's Rewards programme allows lovers of the brand's legendary PERi-PERi to collect 'chillies' to earn free PERi-PERi. Red Badger and the Nando's Loyalty product team reimagined the customer experience of Nando's rewards programme - designing and building a digital-first, mobile wallet-enabled loyalty experience enabling customers to earn and redeem rewards across all digital touchpoints.

Nando's believed solving the plastic card problem would unlock a host of other benefits for both customers and the business alike:


Increased engagement from current customers: Eliminate current pain points with the scheme such as lost or forgotten cards, lack of understanding of the value of the scheme, and incomplete registrations.
Open up new customer segments: Attract digital natives - who expect to engage with brands in a digital way.
Business efficiency and cost reduction: Reduce administration of the scheme and create a unified customer data ecosystem.
The plastic card had to evolve with the times....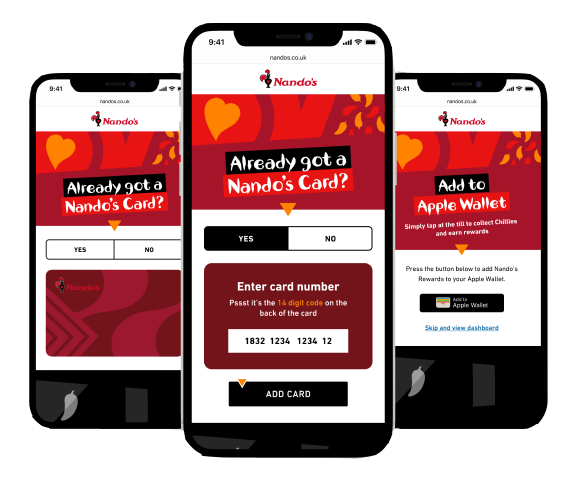 None of this would be possible without the audacity and vision to deliver a cutting edge customer experience, willingness to collaborate, adopt a test and learn mindset and staying totally focused on the needs of our customers. Red Badger has been a powerful ally from the start and instrumental in delivering a great customer experience with Nando's.Ryan Foreman
We solve complicated problems in complex places
Red Badger is the product transformation consultancy for blue chips. Our product design capabilities and technical pedigree build high-performance digital platforms that get you closer to your customers and embed new ways of working. Your journey to an agile, innovative digital product organisation starts today.