---
An industry-leading meal ordering cloud platform
---
Consistent brand experience across all key channels
---
A modular, scalable architecture for business evolution
---
New and improved user experience for staff portal
---
Centralised data collection for customer insights
---
Embedded ways of working for sustainable digital capability
Taking control of the whole customer journey
Nando's is expanding its reach in the takeaway and delivery market with a new, industry-leading meal ordering platform.
By expanding its reach with delivery aggregators—intensified by the 2020 Covid-19 pandemic—Nando's was sacrificing its direct relationship with customers. The third-party suppliers that facilitated online ordering owned part or all of the customer experience.
Partnering with Red Badger, the iconic restaurant has built the necessary digital capabilities to take ownership of the entire customer journey, online and off.
Learn how:
Nando's product team took steps to take direct control over the whole end-to-end experience
Red Badger and Nando's ran workshops to align all key stakeholders
Cloud infrastructure is supporting rapid continuous delivery
A new approach to data collection is driving critical decision-making
New ways of working and a smooth handover puts Nando's in control of their digital destiny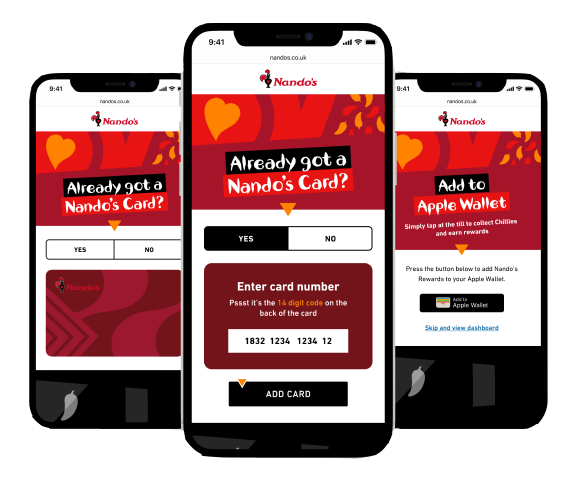 We solve complicated problems in complex places
Red Badger is the product transformation consultancy for blue chips. Our product design capabilities and technical pedigree build high-performance digital products and platforms that get you closer to your customers and embed new ways of working. Your journey to an agile, innovative digital product organisation starts today.