DOWNLOAD OUR COMPREHENSIVE GUIDE
Turn your loyalty programme into a strategic value stream
Learn the steps you need to take from a digital product expert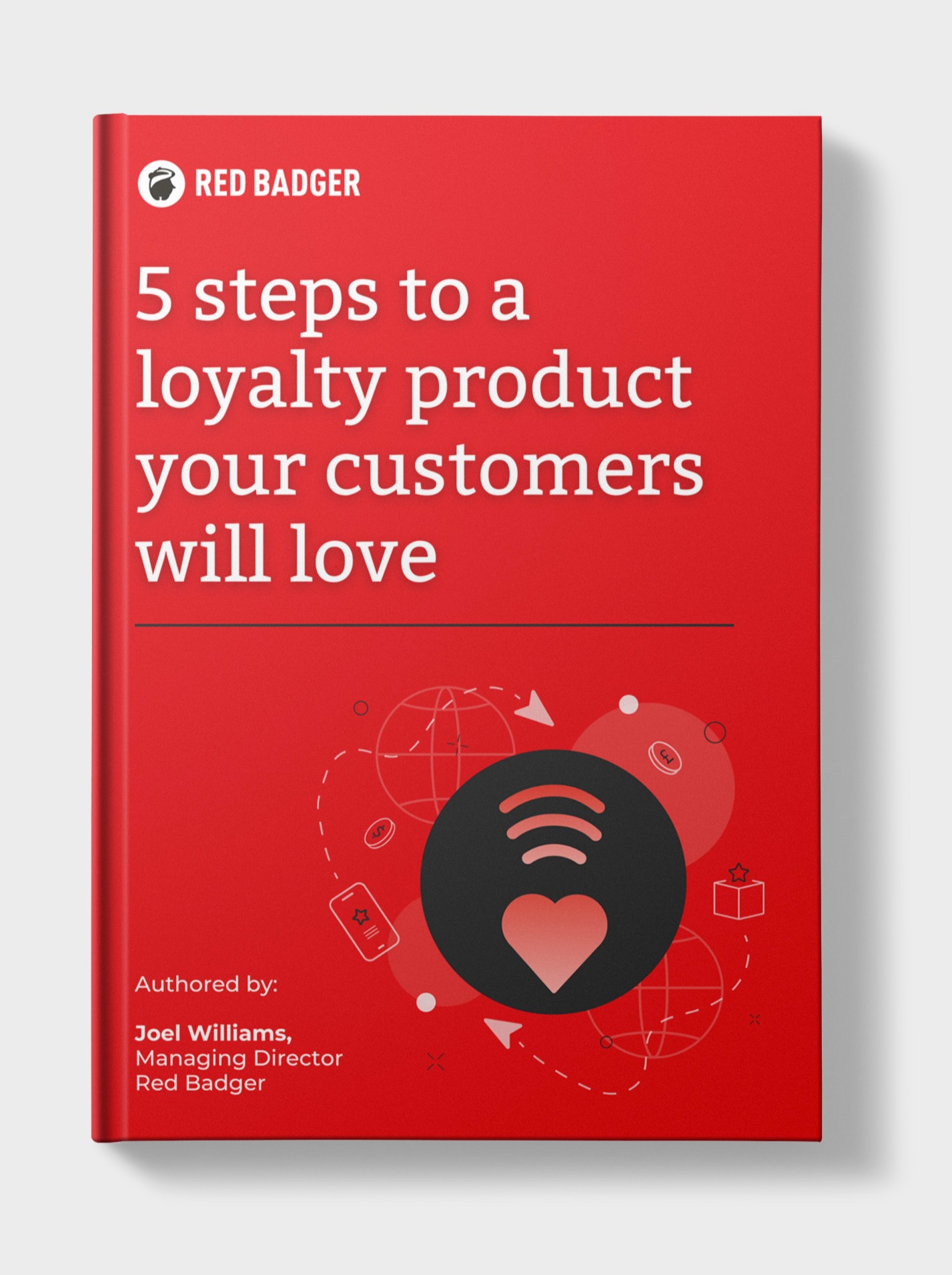 Transactional loyalty schemes that don't adopt a digital product mindset are no longer fit-for-purpose. How can blue-chips make the shift to ensure that existing customers don't switch off and new customers switch on?
The answer lies in shifting to a digital product mindset, aligning the business towards continuous innovation focused on a specific customer outcome: seamless loyalty.
Written by Joel Williams, Managing Director at Red Badger with contributions from seasoned practitioners and digital loyalty experts from globally-recognised brands, this guide walks you through the steps needed to shift your loyalty operating model.
Download our guide to start your journey today:
➤ Learn how to elevate your loyalty scheme to strategic customer engagement and align your stakeholders around a shared vision

➤

Unlock and realise the full potential of your loyalty scheme by developing a solid blueprint for execution and evolution
➤

Create a detailed roadmap and plan complete with quick wins, investment opportunities and Return on investment (ROI) metrics everyone buys into
➤

Build a modular platform primed for rapid innovation to not only accelerate delivery but own your own data and infrastructure
➤
Deliver a first-class digital product your customers love focused on what is important to them
➤

Establish a long-term capability to help you respond more quickly to market pressures and sustain a competitive advantage
EXPERT INSIGHTS
Meet the author
"Supercharged expectations are pushing traditional payment and loyalty infrastructure beyond what it was originally designed to do. Handling customer engagement and purchasing, while integrating loyalty, on multiple channels, platforms, devices and locations is proving extremely difficult and costly. Connecting multiple datasets, managing disparate systems and working with suppliers - already a significant undertaking - is only getting more complex.

This growing complexity is driving a disconnect between brands and customers when it comes to loyalty. Many brands are struggling (or refusing) to adapt to shifting market demands and new market trends (such as Direct to Consumer (DTC) and subscription models) sparked by a more empathetic and environmentally aware Gen Z. Customers want a more meaningful engagement with brands and to feel part of a broader purpose. They expect hyper-relevant and in-context personal service and a wraparound feeling of being valued."
TAKE A PEAK INSIDE
Here's what you can expect...
➤

STEP 1
Find a focus for your loyalty future
Learn how to get even closer to your customers, identify opportunities for development and align on a clear vision.
➤

STEP 2
Examine your connected infrastructure
Identify how to assess your platform in meeting your business and customer expectations and create a future vision of your tech stack.
➤

STEP 3
Build consensus and an executable plan
Secure internal alignment, discover how to find the best solutions to tackle the opportunities you've identified and build a roadmap, backlog and business case.
➤

STEP 4
Deploy pioneering teams with autonomy
Build high-performing product teams empowered to build a product grounded in validated customer insight and with the remit to move at pace.
➤

STEP 5
Develop your product expertise and scale your loyalty programme
Create a culture around a product mindset and establish the workflows and practices needed to sustain your new found digital capability.