The Future of Digital Loyalty
Evolving the Nando's loyalty proposition to meet Gen Z's expectations
EVENT TRANSCRIPT: SESSION 3
Nando's Rewards - Built for Gen Z
This is a transcription of Ryans keynote session from our Digital Loyalty event recorded in February 2022.
Good evening. I'm product lead at Nando's. I'm responsible for Nando's rewards program. I'm going to talk a little bit around the journey we've been on in Nandos to evolve, to meet Gen Z's expectations.
I've been at Nando's for coming up to three years now and during that time I've been very lucky to work with some amazing people from Red Badger on this and a few other things. One of which we're gonna talk about a bit more.
For those of you who don't know, hopefully, everybody does, Nando's is a Peri-Peri restaurant chain in the UK and Ireland. We've got around 470 restaurants across the UK and Republic of Ireland and obviously more across the globe as well. Originated in South Africa and it's all about the Peri-peri, that mix of Mozambique and Portuguese flavours.
So before I jump into what we've done and everything, and I want everyone to just cast their mind back a little bit, think pre pandemic. COVID wasn't on the tip of everyone's tongue as it is now, but before we were in the lockdowns that we have been in now this was a very different place. Uh, we had an amazing restaurant. And the experience was very different than today.

Ryan Foreman
Product Lead, Nando's Rewards Programme
Ryan is an established technical Product Manager with a track record of success. He currently runs two full product teams at Nando's, overseeing the Digital Loyalty and Identity teams with the intention to deliver amazing end-to-end digital experiences for customers. He has also led international teams and delivered global solutions for Shell before joining Nando's.
Get in touch
We had lots of tills within our restaurants. And that was the only way you could order, by going up and speaking to somebody who worked there, who we call Nandocas, that work in our restaurants, and placing an order at the till and then sitting down and having it delivered to you. And that's how 90% of all of our orders were fulfilled.
We had some penetration within click and collect and delivery, but it was not a hotline Heartland at all. Nearly everyone was going to the till and, um, and placing orders in the restaurant. And we had a loyalty scheme. So the scheme works that you collect chillies by spending seven pounds or more, their chillies turned into rewards and those rewards turn into free items. And the scheme was really successful. It was really popular with a huge penetration, especially amongst our millennial customers. And they grew up with it. They saw the value of it.
It had seen them through, you know, college, university, his first jobs, etc, etc. And we would get one in every three transactions, having a Nando's card associated to it, which we were really happy with. And then of that, 6% of our transactions had a reward redeemed against it. And we thought that was fantastic.
It was seen as a big driver of getting customers to come back into Nando's. And then from there we had new leadership and new vision come in. So Colin Hill, our CEO came in and set a really strong vision of wanting to be the best restaurant brand that's most loved by Gen Z.
There was that acceptance that yes, millennials, our core, they love us and that's what keeps us going, but we need to be ready for the next generation that is coming. In order to do that, we need to really understand our customers and, take the time to make sure that we're providing experiences that they love to Gen Z but obviously not alienating everybody else. So we took this and we had a look at what the loyalty scheme was doing, and it became really apparent.
"Our customer base had ultimately outgrown the plastic card that we've moved on to. And they demanded a better experience."
We weren't meeting our customer's expectations. If we're not meeting those expectations, we're not going to get to that goal of being the most loved restaurant and brand by Gen Z.
So when speaking to customers and also to our diners in the restaurants, we saw that they were really frustrated by the plastic card. The best thing and also the worst thing about our customers is that they're incredibly passionate and they will abundantly tell you, as you can see by all the comments on the slide here.

And also where we could be doing better. And we could've, we should've been doing a lot better with how customers can engage with the loyalty program. Customers that ultimately outgrown the plastic card that we've moved on to. And they demanded a better experience.
So from this we engaged with Red Badger to look, to see how we can exceed our customer's expectations. So we put together a product team. One of the first within Nando's made up of, product managers, delivery leads, UX, UI, and engineers, all within the team.
But with the focus of how can we deliver a better experience for our loyalty customers. We started off by taking that customer centric approach and looking at what were the problems and the frustrations that our customers had. And by going into restaurants, speaking to them, doing competitive research, and again, because our customers are the best in the world, they are more than happy to spend time and let us know what they think.
What we found out was that for Gen Z customers, they'd grown up with technology embedded in their life. And therefore, when they came to a brand like Nando's, they expected us to be able to already have those solutions to their problems and to meet them there.
And with that, they expect us to be on the pulse and ready. So after understanding all of those problems, we went away to ideate and looking at all the solutions that we came up with, there was one clear winner that we thought about that would exceed Gen Z customers' expectations and ultimately everyone else's.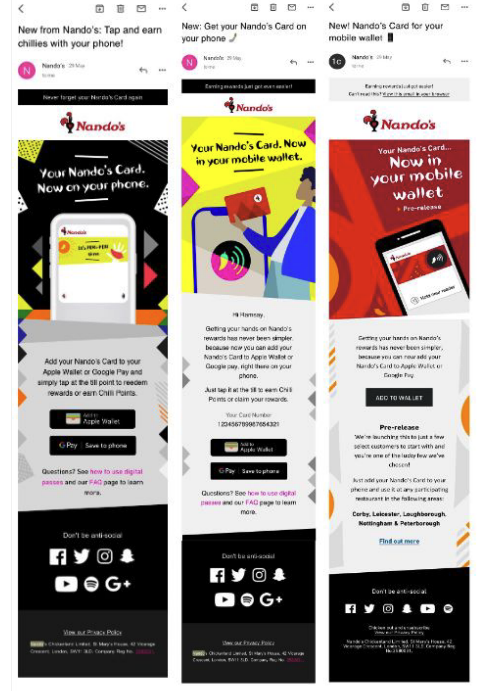 So we decided to look at adopting mobile wallet technology. So to enable customers to have it on their phone and be able to tap it at the till as we went through a whole product development process, much like how we started with, uh, understanding customer's problems by speaking to them and testing with them, we continued that strategy into product development. So we'd go into restaurants and we built loads of different email designs to help test and understand them. We needed to see what worked with customers, if they understood it, if they would go through, and add the mobile wallet to their past, through to then running a whole, a trial with 12 restaurants within, the Leicester area.
Just launching it organically to see, if customers would take it up and interact with it. And the result of this was we were able to launch the UK-first NFC-enabled loyalty, mobile wallet pass to working, um, working to get hardware in restaurants, a whole new digital onboarding journey enabled across our website and the app.
And it was fantastic. We were really happy with the results that we saw from our Beta. We learned a lot from it and we made sure that, we would put we're listening to frustrations and problems and trying to solve them by putting more control over, more control into customer's hands, by making sure they had the headache on them all the time, that they were able to make sure that they knew what they could get with our rewards.
And that was clearly visible on the front of the pass. And it was just easy to interact with. And we had some amazing feedback from the beta group. So we were at the stage where we were ready to do a whole, launch campaign. And it was a really good one.
There were some amazing, really cheeky ideas from a lot of the customer team and Nando's but unfortunately, I think we all know what happens next... is COVID hits.
Fighting back during the Coronavirus Pandemic
As we were about to launch everything, we had installed all the hardware in the restaurants. They all closed, within a blink of an eye.
There was a few weeks of so much uncertainty and not knowing if we were able to launch, if we should be talking about it. And luckily though stuff started to open back up, with delivery enabled click and collect as well.
Unfortunately for us, it wasn't a return to complete normal, as we know it was order at table mandated. So the problems that we were focusing on trying to sell for our customers looks just disappeared, where they were no longer viable, because nobody was going to the till.
With all those changes Nando's had to adapt. The operating model kind of got turned upside down on its head. So instead of 90% of restaurants customers placing or distributing, we saw that reversed to delivery, being our main channel.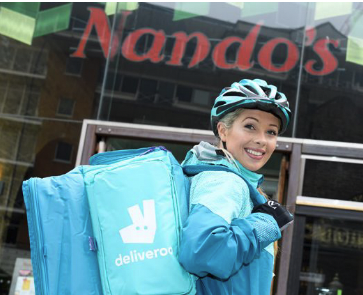 And we have an amazing partner in delivery that was able to, get us up to speed and start making sure that customers orders get their Peri-Peri. So we took a lot of those learnings, um, from customers in that way of working and were able to apply it really quickly and rapidly into the loyalty scheme. So we had before COVID we had a really small digital footprint and that's changed massively over the last two years.
And so we used the established product team we had from cardless. We saw the problem of the loyalty scheme wasn't there for, when customers came back to back to restaurants and started ordering and started ordering from us, then we knew we could lose them and lose and lose that retention of those customers.
We knew we had to launch all of these different journeys with the customers, being able to earn and redeem their rewards. Some of the things that we implemented here were being able to give the customers the ability to see what they can get and giving them the power to be able to redeem so on our click and collect and our delivery channels across web and app, the team were able to really quickly build out these experiences and make sure that we were serving those loyalty customers.
Another key thing was automatically giving them what they wanted, just making it effortless. And we've got some amazing feedback from customers that, that it was what they expected. And it's a credit to all the hard work and all the learnings that we'd done through cardless and be able to quickly apply it.
"Pre-pandemic, we saw 30% penetration rate of loyalty scheme, and now on our digital channels for delivery or click and collect we see 60% of all of our orders have a reward card associated to it."
A growing appetite for delivery
Hopefully, as we emerge out of the pandemic, you'll be aware that we've got now three really well-established channels. So, Eat-In is back open and, we're loving seeing customers come back into restaurants and, but customers behaviour really has changed.
Ultimately, there's more appetite for delivery and click and collect, and we've now got a proper multichannel loyalty scheme. Our digital footprint has increased massively we've, been able to take a lot of the learnings from everything we've done and apply it and be able to demonstrate benefit the benefit of the reward scheme to customers. And a lot simpler way and the results have been incredible.
So pre-pandemic, we saw 30% penetration rate of loyalty scheme and now on our digital channels now click and collect we see 60% of all of our orders have a reward card associated to it. And it goes even higher up into 19 to, uh, where if they're interacting on the app. And it's also been a massive driver of our own delivery journey as well, that operates alongside delivery.
And in terms of redemptions, not only like, because it's easier to interact with, but we're also seeing it being engaged with more so from that 6% of, orders that had to redemption against we're now seeing around 15 to 30% of our orders, depending on which channel it is.
So it's just showing that all those learnings that we took from the card, this mobile wallet work that we did and delivering out these journeys and embedding them within our online ordering journeys had such a big impact to making sure that our best customers, the rewards customers were coming back to us and we're seeing really good retention rates.
Where are we going from there? So at the moment, it's a very value exchange based scheme, and it's doing really well. I think where we want to look to in the future is a lot of what Joel and Chris have already talked about, but how do we build that emotional loyalty with our customers?
And what's amazing about Nando's from the inside is that we have, we talk a lot about, some amazing things that we do from our work become carbon neutral last November, to our ambition, to be net-zero by 2030, there's some amazing work.
If you look up around our fight against malaria and with our peri farms initiative as well. And so it's looking at how do we bring our best customers, the ones that love us the most and be able to comfortably share these messages with them and to look at, look at how we can build a relationship through with our passions in Nandos and, and hopefully it mixes with their passions as well.
So not sure exactly what it looks like in the future, but we've got the right passion within Nandos. We've got the right tools. We've got an amazing understanding of our customers now based on the journey we've been through and i'm really excited about where we're going to take the scheme in the future.
Watch the full on demand recording of this event
NOW ON-DEMAND
Nando's and The Future Laboratory share their vision for world-first customer loyalty programmes
76% of Generation Z believe their favourite brands should reward them for their patronage. Soon to become the most numerous and diverse consumer group on the planet, how do you build a loyalty product that caters to their super-charged demands, meets them where they are (on their smartphone), and gives them what they want?
Watch now
BLOG
How Gen Z think about loyalty and why you need to align your strategy to meet their needs
Learn more