Desirability testing: Innovation at the British Heart Foundation
How we helped the British Heart Foundation validate ideas and assumptions with desirability testing.
---

How would you define innovation in a business context? For some, it's about incremental change – your products and services getting better with each new iteration. For others, it's about taking big bets – charting unknown territories that might change your business entirely.
Rarely do we see teams set up around the latter, with the explicit goal of providing their organisation with a pathfinding service to validate new and unproven ideas. When I learned that Steph Collins, Senior Innovation Executive at the British Heart Foundation (BHF) and her team were doing just that, I was incredibly excited to find an opportunity to work together.
At Red Badger, we thrive off of supporting organisations to shape and deliver on their innovation strategies. I think it betters us all in the industry when we help each other out and share what we know. Product strategy teams have a common mother tongue of innovation techniques, but we often speak different dialects as we operate in different verticals and different domains. The opportunities for mutual learning are vast.
Learning by doing
To that end, we ran an interactive workshop with the BHF to deep-dive into the methodology that Red Badger used with Mission Beyond, our social impact initiative, to bring a new product idea to life and rigorously test it along the way. Together, we uncovered how to define a territory for experimentation, understand user needs at pace, rinse out your best ideas, and rapidly build a smoke test that draws out the insights you'll need to inform future investment.
One of my favourite moments came in the middle of our 'rinse' exercise as we practised weeding out good ideas from the bad. "Should we invest in this?" our product strategist Jamie Irving repeatedly asked the room.
With each product idea, he flashed on the screen, a lively discussion took place as everyone channelled their own inner strategist. Was it novel? Scalable? Did it satisfy some unmet user needs? And did we believe it would be worth testing to find out? We quickly scored each hypothesis as a team and then moved to the next, rapid-fire.
By the end of the rinse, I was surprised to find how aligned Steph's team was with ours on which ideas should make the cut. Our top pick was also theirs – had we done the original sprint together, we'd be in perfect sync on which smoke test to build next!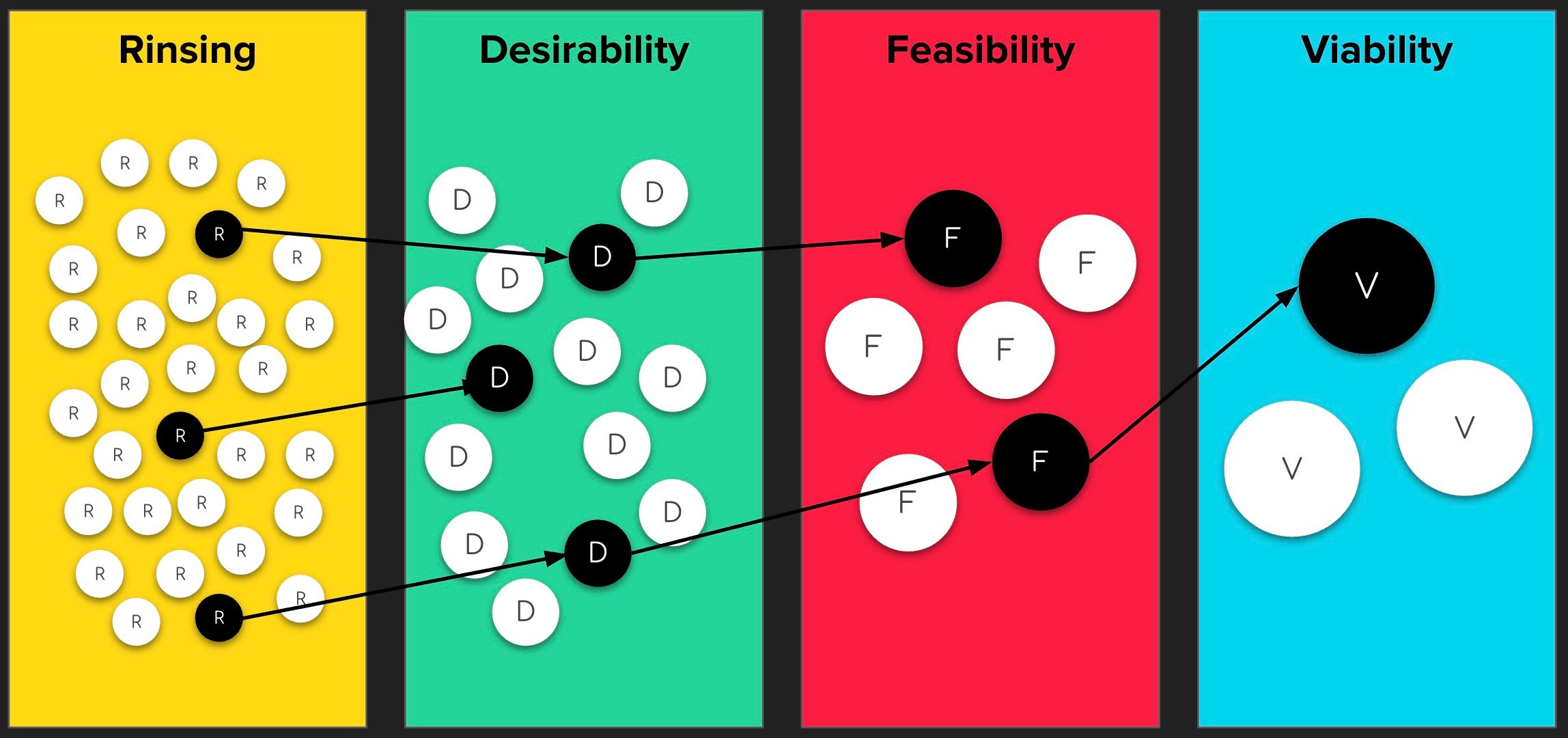 Running with it
We're strong believers in testing desirability first when it comes to product strategy: there's little point to building something that won't get traction with your target audience. But in the earliest stages of an innovation effort, hard data is hard to come by, yet critical to break the deadlock of opinions on what ideas to invest in.
Steph and her team get that. At the BHF, fundraising is a business-critical function that enables all the impactful work that the foundation does to improve the lives of those affected by heart and circulatory diseases. And discovering new opportunities to better connect with donors and supporters lends itself well to an innovation-style approach.
Drawing on their experience from working with Red Badger, Steph's team organised an innovation challenge the following week to practice new skills in support of this mission. The team created a plan to use methodologies like the 'rinse' to perform rapid testing on an idea that's been in their pipeline for a while – ultimately with the aim of accelerating innovation at the BHF.
Red Badger has made a big impact on how we approach our innovation efforts at the BHF. We're excited about the opportunities to accelerate our fundraising initiatives, keeping desirability at the heart of what we do, and are looking forward to future opportunities to collaborate and share together.



- Steph Collins, Innovation & Product Development Senior Executive, British Heart Foundation
If you're looking to become more data-driven in your product innovation efforts, or not sure where to start, we'd love to chat and see if we can help. Get in touch with one of our product strategy experts.