Introducing the remote North Star Framework
How to introduce the North Star Framework remotely.
---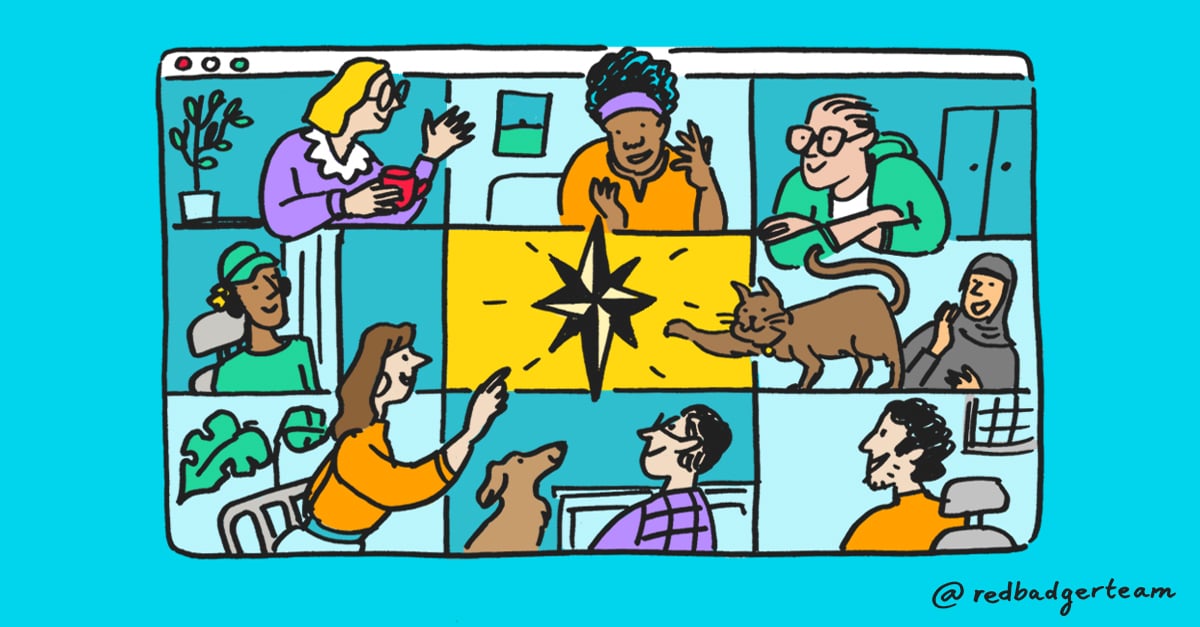 What is it?
The North Star framework is a vital tool in aligning Product Teams around a shared sense of direction that guides the way to building products that have an impact on customers.
A good North Star metric is a leading indicator of success and is tied to users getting value from a product or service. A North Star should reflect the product vision and can be used to help prioritise a product team's backlog.
The North Star framework allows a Product Team to:
Focus on delivering true value to customers
Address customer problems and opportunities without resorting to just churning out new features
Reduce waste
Maximise impact
Focusing teams around a shared metric also increases the sense of purpose in the team and allows teams to be data-informed which, inevitably, leads to better decisions.
Problems encountered when first done remotely
For the past year and a half, we'd been happily introducing our clients to the North Star methodology, working with them collaboratively in an on-site workshop environment to agree on the key metrics they wanted to focus on for their product. Everything was going swimmingly.
Then….bam! 2020 came along and slapped us all hard in the face! We went from being with our clients every day in person, to talking to 2D versions of people on numerous Zoom calls whilst in our slippers.
The Covid pandemic also posed us with a new problem to solve. How could we effectively run a North Star workshop remotely?
In our 3D workshops, we'd be drowning in canvases, post-its and marker pens. We'd move freely about a room (without having to social distance), and peer over the shoulders of different groups, offering a helping hand where needed.
So how could we now move this physical workshop room, to a Zoom room? (Other online meeting tools are available!).
To put the situation into four words: we had to adapt. It wasn't easy, we couldn't simply "lift-and-shift" the in-person workshop we'd been running and deposit that online.
However, what we did do is approach the challenge with an experimental mindset. We tested, and we learnt….fast!
We researched online collaborative tools, we tested new ways of approaching the workshop, we played around with content and canvases, and we learnt from our peers on how they were succeeding in the 2D workshop world.
Here are some of our key findings:
Remote workshops take a lot longer. We'd find ourselves quickly running out of time, as everyone in the workshop adapted to a new way of working. What was once a 90 minute workshop, now ideally needs to be expanded to between 2 - 3 hours (with breaks from the screen dotted in between. Allow people to have a coffee, stretch, and check in with the dog/cat/partner!).


As we're now more remote and have less contact with humans, it's always nice to "check in" with participants before a remote session even begins and find out something interesting about each other. Ask your participants: "What's the most interesting thing you learnt yesterday", "If you could go anywhere in the world right now, where would you want to be", "What season do you feel reflects your personality, and why". It helps to set the scene and re-ignites the sense of human connection in the remote world.


Online, whiteboard collaboration tools (e.g. Miro, Mural) have some great features which help with facilitating a remote North Star workshop. One key takeaway is to ensure the participants have had an initial introduction/training session to the tools before the session, so they feel comfortable and informed on how the session will be conducted. This saves time and helps to prepare everyone. Similarly, send out any reading material ahead of the session.


Prepare breakout group sessions by assigning participants to a certain group ahead of time, and ensure you have the ability to create breakout rooms with the online meeting tool you're using, or alternatively set up individual online rooms for people to move to.


Ensure you have a facilitator working with the group in each online room, to lend a helping hand and to help guide people back to the main session to share insights and thoughts with the whole group, in a timely manner.
Structure of a remote North Star workshop
As with a traditional face to face workshop, there's a lot to get through in a North Star workshop. Not only do you need the time to explain the framework but you also need to get a diverse range of stakeholders - some of whom may not typically think about metrics very often - to understand and apply it.
This is how we structure our workshops;
Intros
Introducing ourselves and the attendees to each other and describing what we are here to do.


North Star Framework: what it is and why you use it
This is a fairly chunky section of the workshop, it breaks down the composition of the framework and gives the attendees a chance to practice applying the main components to a hypothetical example.

We start by drawing a high level picture of the 4 components of the framework (The product vision, The north star metric, The Input metrics and The Work). It looks something like this:


Then focusing on the North Star Metric, with a 15 minute individual workshop to think about what a bad north star metric might look like. Having done this we describe the four Input metrics (of Breadth, Depth, Frequency and Efficiency) and then run a 35 minute, group-based workshop to build hypothetical Input metrics for an unrelated company. We have found using an unrelated company (in our case Spotify) helps to get the attendees to focus more on understanding and applying the framework.
Break (15 minutes)
It can be a three hour workshop after all!


Recap on the Product Vision
Assuming of course that there is one (we have a separate remote workshop for defining this) we spend a couple of minutes reflecting on the Product Vision which will become the foundation of the measurement framework. Defining a product vision

is a prerequisite for running a North Star workshop.



The main body of the workshop
This is broken into 3 parts.
i). Individual and then Group workshop for 25 minutes on what a suitable North Star metric could be given the product vision - this is a warm up to get the attendees to think about their business and product vision, it usually teases out some good input metrics rather than a North Star.
ii). Group workshop for 50 minutes on the 4 input metrics. Building the Breadth, Depth, Frequency and Efficiency metrics is a really good way of critiquing the thinking behind the initial ideas for the North Star and sets up the final workshop. Each group plays back its thinking on the input metrics, and we wind this session up with dot voting to tease out preferences
iii). Back to the North Star for a final 25-minute group workshop. Again each group plays back its thinking on the metric, and we wind this session up with dot voting to identify preferred metrics or elements of metrics
6. Final step
Finishing up with thanks to participants and a clear view of what will happen next - typically we would tidy up the framework and make some recommendations as to the next steps based on where we got to in the workshop.
Next steps
Armed with a North Star and supporting metrics a team should aim to prioritise their backlog with features that will have the greatest impact on the North Star, and therefore, customers. There are a number of ways to prioritise work but the process should be data-driven.
Some thought should also be given to measurement and reporting either through existing processes or by considering creating a measurement framework to align with the North Star. Share progress and try to refer to the North Star framework as often as possible to maintain alignment across teams.