Working in the open with the FutureNHS platform
Red Badger is helping the NHS build its next-gen collaboration platform, FutureNHS, in the open. Here's what openness looks like in practice.
---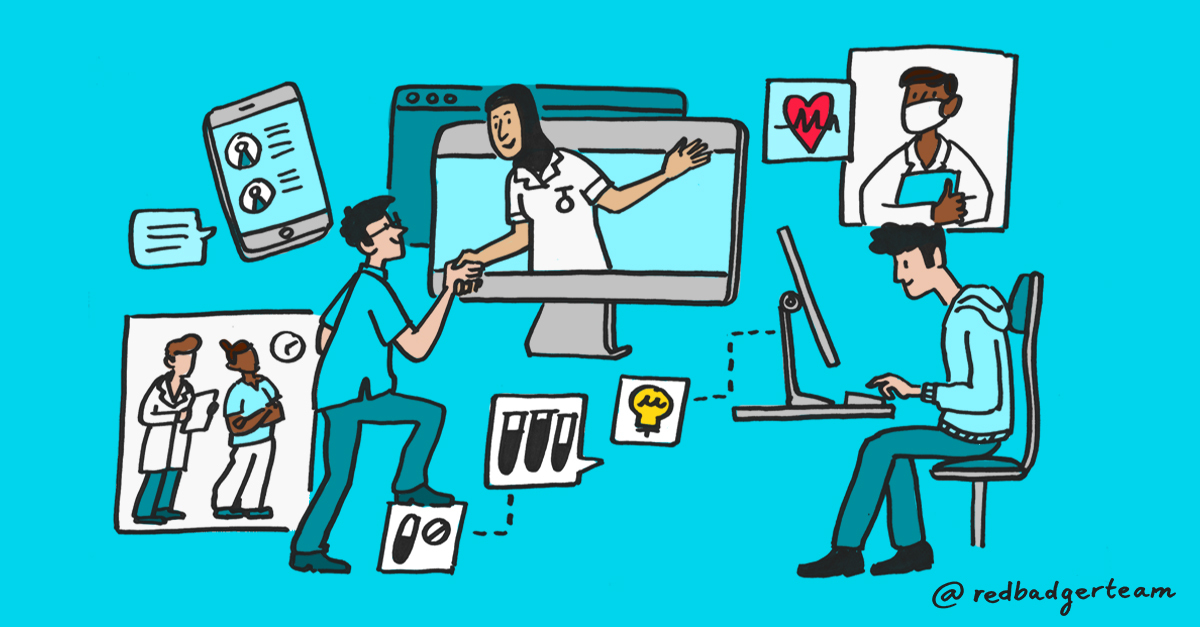 When Red Badger first started working with the NHS on the next version of their collaboration platform, FutureNHS, we were incredibly excited by the opportunity to have an impact on one of the nation's most beloved public services during a critical moment in global public health. Having been on the journey with the FutureNHS team for many months now, we've been equally excited by what we've found: the platform is already a thriving home for GPs, nurses, physios, therapists, department leads, and other staff to share ideas and best practices across the diverse set of organisations that make up the health and care community.

People are often unaware of how challenging it can be to work across organisations within public health; the NHS alone is made up of thousands of sub-organisations, each with its own internal structure and norms for communication. The FutureNHS platform meets this challenge head-on by enabling health and care professionals to share what they know and connect with others on common topics – regardless of which organisation they each happen to work for. FutureNHS also stands out among other staff-facing services in that it's owned by its users; communities emerge around their needs and interests. But we're quickly reaching the limits of the current platform's ability to keep up with ever-growing demand, as well as quickly serve up relevant information that ensures our users find value in every visit to the platform.
Our delivery strategy has been to work in a way that is consistent with the public body we serve – to deliver not just a next-gen platform, but a public good, through the methods and tools that we use. For our team, that means working in the open by default and modelling the transparent and participatory ways of working that we'd like to see in government and the public sector at large. We hope this will ultimately lead to better outcomes for FutureNHS and its users, encouraging us to engage with more parties and explore more possibilities than we would otherwise.
Here's how we're putting openness into practice in our everyday work.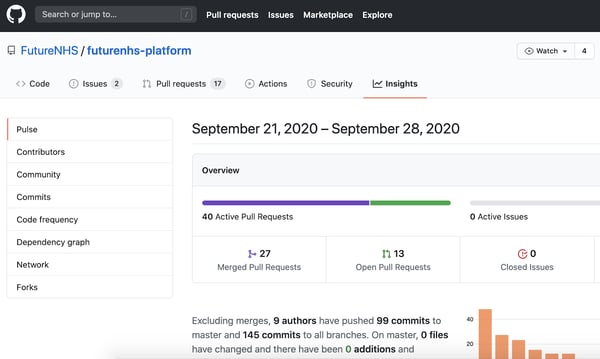 As a digital service, FutureNHS is being built as open-source, freely available software hosted on GitHub and is open to contributions from the public. Planning for external contributors helps us keep extensibility front of mind when delivering work off of our product backlog. Equally, we're keen not to reinvent the wheel when solving technical challenges and have been building FutureNHS on top of great public projects where we can (including contributing upstream when appropriate). Throughout our discovery phase, we've also researched the ecosystem both externally and within government, and have engaged with partner teams in Health Education England and NHS Digital to help form our view of the service architecture we will take into development for our upcoming beta.
We work in cross-functional teams at Red Badger, and as such, have also made our design and style guidance available in Zeroheight during project development as we adapt NHS.UK and GOV.UK guidelines to fit the context of a staff-facing collaboration platform. Along with Figma and Zeplin, using iterative tools that support our design workflow gives our team a more effective handover from design into product build. By publishing visual guidance alongside the code repository, we hope to pay it forward to any delivery teams who may encounter similar design challenges in the future.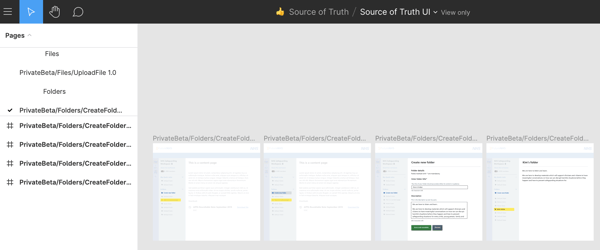 Working in the open isn't just about pushing content out, but also pulling users in – a major component of our alpha phase has been engaging with users of the current platform and testing our plans early before we commit to building them a particular way. For instance, interactive prototypes (like these iterations in Figma) have been an effective way of vetting how navigation across different workspaces might work. As we tackle upcoming feature areas yet to be built, we intend to continue recruiting members to help us understand what's most intuitive based on their current experiences. This will help us shape our plans to deliver the most valuable improvements first.
Our qualitative research in discovery included dozens of workspace manager and member interviews, analysis of current platform support tickets and existing analytics data, and a platform-wide member survey to identify pain points and unmet needs that we could take into account during our backlog definition. All throughout, we have also been welcoming the guidance of governance teams within NHSX and GDS to support us in adhering to the Service Standard at high quality through each phase of our delivery.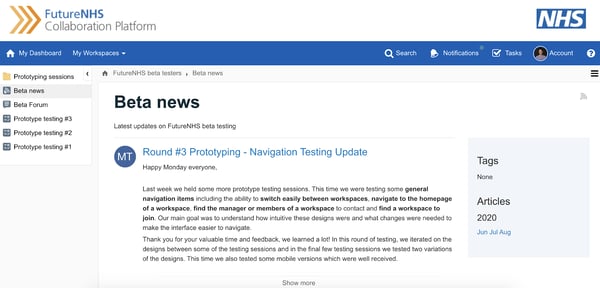 As we work through our upcoming milestones and prepare for a public beta, we're looking forward to broadening the dialogue with our user base by publishing more blogs like these, participating in community discussions and running wider show & tells to maintain a tight feedback loop. We've got a dedicated FutureNHS workspace for new beta testers (80 members and counting!) who will be helping us build the best quality service we can. Our plans also include technical investments in analytics infrastructure, adding a quantitative lens to our qualitative research once we begin onboarding users and communities to the new platform. We hope to bring this real usage data to bear on the product prioritisation decisions we'll inevitably need to make, as we test and measure what we've built.
Most of all, we're keen to ensure we're delivering value every step of the way. Our milestone-based approach will help us focus on the core features for collaboration as a priority, and by phasing migrations to the new platform, we're looking to minimise disruption to existing workspaces so that they can continue to thrive on the new platform and have access to support and training ready as they need it.
If you're a member of the health and care community and would like to help shape the future direction of FutureNHS, please don't hesitate to get in touch – we look forward to hearing from you, and continuing the journey of delivering public good!