The Journey Towards Sustainable Fashion
Insights into the future of sustainable fashion from our recent event to encourage discussion with industry leaders and experts.
---
In a rapidly evolving world, the integration of technology and sustainability is reshaping industries. One such industry that is undergoing significant transformation is fashion. At our recent breakfast event at London's The Ivy, we invited prominent figures from the fashion industry to come together to share their experiences, visions, and the impact technology has in shaping a more sustainable fashion future.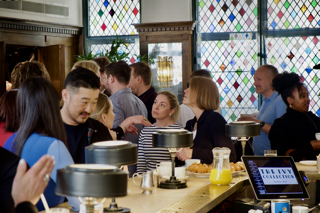 First up was Cyrus Gilbert-Rolfe, SVP Retail & Apparel at Kezzler, who gave an enlightening presentation on the upcoming European Union (EU) regulations around sustainable fashion and product traceability. Highlighting the upcoming EU textile strategy which are set to transform the entire product value chain between 2022 to 2027, Cyrus emphasised its focus on areas like ecolabels, packaging, and product lifespan. He spotlighted the Digital Product Passport (DPP) - set to take effect by 2026 - designed to enhance product traceability and simplify compliance verification. He concluded by illustrating how digital IDs, as a part of supply chain traceability and anti-counterfeit solutions, would revolutionise customer interactions and experiences in the fashion industry, reinforcing the transformative role of digital technologies in promoting sustainable fashion.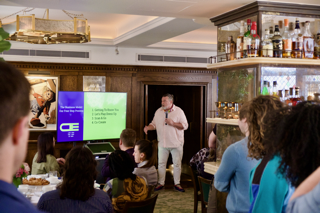 Next, we were honoured to host Craig Crawford, the Founding Director of Differently Enabled, shared his personal journey of resilience, recovery, and the birth of his innovative brand. In an industry that often overlooks the needs of differently-abled individuals, Craig's brand utilises advanced technology and bespoke tailoring to create personalised and sustainable outfits. His story exemplified the power of technology in fostering inclusivity, highlighting how digital advancements could bridge gaps and cater to overlooked needs whilst also being committed to reducing the environmental impact of the fashion industry.

In a powerful and poignant finale, Craig reminded us of the universal human needs of wanting to be seen, heard, and belong, a message that resonates deeply with us at Red Badger. We were moved by his vision of creating a community and movement that goes beyond fashion.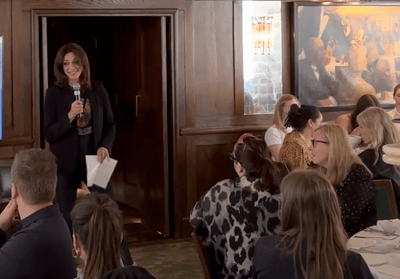 Our third speaker, Gillian Ridley Whittle, Founder & CEO of Peachaus, shifted the focus to how technology could catalyse change within established fashion practices. With her wealth of experience and passion for sustainability, Gillian has transformed Peachaus from a lifestyle and underwear brand into a platform that fosters positive change. Her deep understanding of the fashion industry has led her to recognise the critical need for change across the entire supply chain. Her focus is not just on creating sustainable products but also on engendering a desire for longevity in the consumers' mindset. She emphasises that products must be long-lived, reducing wasteful consumption and embracing a more sustainable approach to fashion.

Yet, she understands that change isn't a solitary endeavour. Her presentation underscored the urgent need for collaboration. The fashion industry's journey towards a sustainable future necessitates cooperation, a shared commitment, and a collective vision, which is why we were proud to have been able to facilitate these discussions as hosts at this event.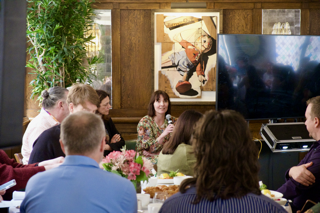 Finally, we heard from Hannah Craik, Co-founder and Director of Pivotal Consulting. With her extensive experience in the fashion industry with brands such as ASOS and Reiss, Hannah provided a unique perspective on the interplay between marketing and sustainability. Drawing on her intimate understanding of the fashion industry, she posed a provocative question: could the marketing function, which currently propels consumer desire for transient fast fashion, be harnessed to drive a shift toward sustainable consumption?

The inherent flaws of the current model, with its focus on selling high volumes of clothing, were a central theme in her presentation. Hannah stressed the importance of shifting this strategy towards one that embraces sustainability, longevity, and champions the three Rs: Reduce, Reuse, and Recycle. For such a strategy to succeed, the marketing function must ignite consumer desire for a new sustainable model, a challenge she believes is achievable.

Hannah also shared success stories of brands that managed to increase margins and revenues despite lower unit volumes, showcasing that the sustainable model can be commercially viable.
As we journey into an era where fashion intersects sustainability, it's clear that digital technology will play a pivotal role in bridging the gap between industry operations and sustainability goals. As we've seen from the insights shared at our event, it's not only legislative and regulatory changes that will drive the industry's transformation, but also the evolving demands and behaviours of the conscious consumer.
At Red Badger, we believe in the power of technology as a catalyst for this change, helping brands to innovate, adapt and meet these emerging challenges head-on. The fashion industry must embrace this digital-led evolution, harnessing technology to create sustainable solutions that resonate with their consumers, meet regulatory demands, and ultimately, lead the way towards a future where fashion and sustainability coexist seamlessly.
If your brand needs to meet urgent sustainability goals that meet legislation, regulation and the changing consumer-driven demands, get in touch and see how the Badgers get things done.