Green Engineering by Design: The Future of Sustainability in Tech
Green Engineering focuses on eco-friendly design. Using CRUX, Red Badger aids firms in achieving sustainability through tech like AI.
---
Understanding Green Engineering by Design
Green Engineering by Design is an approach that integrates environmental considerations into the design of products and processes. It aims to minimise pollution, promote sustainability, and create a healthier environment. This approach is not just about mitigating the negative impacts of technology on the environment, but also about leveraging technology to create positive environmental outcomes.
The Transforming Landscape of Tech
The tech industry is undergoing a significant transformation. As the impacts of climate change become more apparent, there is a growing recognition of the need for more sustainable practices. This is not just about reducing the environmental footprint of tech companies, but also about using technology to drive sustainability in other sectors.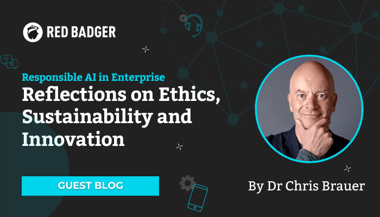 Dr. Chris Brauer, Director of Innovation in the Institute of Management Studies at Goldsmiths, University of London, believes that the future of work will be characterised by human and AI collaboration. He says, "AI will augment human abilities and help us make more informed decisions." This vision extends to the realm of sustainability, where AI and other technologies can help us make more sustainable decisions.
Red Badger's Approach to Sustainability
At Red Badger, we are committed to supporting companies in their ethical and sustainability goals. We believe that technology can be a powerful tool for driving sustainability, and we are dedicated to helping our clients leverage this potential.

One of the ways we do this is through our open-source app development framework, CRUX. Built on Rust, CRUX is designed to be efficient and lightweight, minimising its environmental impact. But more than that, CRUX is about empowering developers to create apps that are not just functional, but also sustainable.
The Role of Green Engineering in Customer Loyalty
Green Engineering by Design is not just about environmental sustainability; it's also about customer loyalty. Today's consumers are increasingly conscious of the environmental impact of their purchases and are more likely to be loyal to brands that demonstrate a commitment to sustainability.

By integrating Green Engineering principles into their product development processes, Blue Chips can create products that are not only high-quality and innovative, but also sustainable. This can enhance their brand reputation, foster customer loyalty, and ultimately drive business success.
The Future of Green Engineering
The future of Green Engineering is huge. As more companies recognise the value of sustainable practices, and as technologies like AI continue to evolve, we can expect to see more innovative, sustainable solutions coming out of the tech industry.

At Red Badger, we are excited to be part of this journey. We are committed to using our expertise in digital transformation and our passion for sustainability to help our clients navigate this changing landscape and achieve their sustainability goals.