Meet our Loyalty Panellist: Robert Bates from Currys
We spoke to the Head of Decision Sciences for Currys to find out his take on the future of loyalty and the critical role of data in the company's journey.
---
As part of our debate on the future of loyalty, we interviewed our expert panellists to learn more about their personal experiences and opinions on loyalty.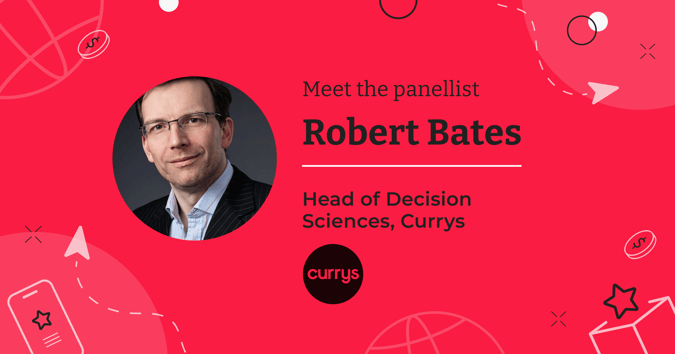 The second piece in the series explores the value and use of data to solve significant organisation challenges, particularly about the execution of loyalty programmes and customer lifetime value.
Meet Robert Bates, head of the Currys Decision Sciences Team, identifying where advanced analytics, Machine Learning and Artificial Intelligence techniques can drive change in long-term strategy and day-to-day trading.
To achieve these goals, his team fuse data and management science techniques to bring the stories within the data to life, encouraging business engagement and debate.
I asked Robert some questions to get a sense of his team's role in loyalty, customer acquisition at Currys and the related challenges felt today. I also asked about the growing use of data across the business, and what the future of loyalty looks like to him (and Currys).
Gary Gould, Marketing Director at Red Badger (GG): Can you explain in a little more detail what's involved with your role as Head of Decision Sciences? And can you elaborate on its importance within loyalty and customer acquisition for Currys?
Robert Bates (RB): As a decision scientist, it's my role to link the business questions to the data science and models to ensure Currys is a truly data-driven business.
The aim of the projects we work on isn't simply to create a model or perform analysis; rather it is to understand how the system works – where and how we can optimise it, what are the upstream and downstream dependencies – so we can drive meaningful and lasting change, influence behaviours and alter management thinking.
As such, there's a natural affinity with loyalty and customer acquisition. For any such schemes, you must first understand how your existing customer base behaves and then how you expect to change that behaviour over time, or even how your customers' expectations may shift as and when you make changes.
Once identified, you then need to explain to the broader business how you reached these conclusions and how you can help implement the necessary changes and demonstrate the sensitivity of predicted performance to any assumptions – all skills the decision scientist uses daily.
GG: That sounds like a fascinating and no doubt rapidly expanding area of the modern enterprise.
A fundamental part of any project Red Badger delivers depends upon deep customer research and ongoing exploration to validate any hypothesis with real data - you can never understand your customers enough.
As a data expert and analyst, how has the role of data influenced the decision-making process at Currys, and where do you expect to see it used more widely in the future? For example, are key initiatives being explored today around your loyalty proposition?
RB: Data is at the heart of decision-making within Currys, and it's my team's role (and some others within the business) to translate these commercial questions into the data world.
We're doing this across the whole business - from demand forecasting (how much we expect to sell) through helping define the role and product range in stores (what do customers want) down to identifying what the next best action is we should take for a given customer.
It's the latter where we can begin to focus on our loyalty proposition and to understand how our customer base behaves - both at an overall and segmented level.
This analysis allows us to identify not only the lifetime value of different customers but also what drives them and how experiences can influence them.
GG: Interestingly, you reference the impact of experiences on customer lifetime value and engagement. Our whole ethos as a digital product consultancy is centred around continuous innovation and constantly improving the experiences delivered to customers.
We believe it is one of the most important things you can do to deliver value to customers.
What are some of the biggest challenges faced when looking to provide more meaningful and engaging loyalty propositions to your customers today? And what steps are you taking to solve them?
RB: I see two main challenges within the loyalty space, not just within Currys but within most schemes.
Firstly you have to be clear on what customer behaviours you want to drive as a result of the scheme; are you primarily focused on retention (in which case are there other ways of achieving this) or growth through accessing customer headroom?
It's difficult for a scheme to be all things to all people. I suspect that very few people select a retailer for the first time based on a loyalty scheme alone, so clarity on the segments you're targeting is a must.
Secondly, you need to identify these customers within your base and understand the economics. Nothing is free, and you must balance any investment with in-year and lifetime gains.
Curry's customer lifetime value models allow us to assess the short-term and long-term customer-based initiatives' potential impact and costs.
By understanding the drivers, we can identify higher LTV customers earlier (i.e. before we've seen multiple years of transactions) and improve our offer orchestration and next-best-action planning.
GG: Now you're talking my language; many of the fundamentals of good marketing practice are on display here. Targeting the right customers with the correct offers and incentives to drive the right behaviours.
Right, last question, what do you think the future of loyalty looks like at Currys? And how key do you feel your role is as a data science specialist within that future?
RB: However, as the future of loyalty evolves within Currys, I'm confident that data and the segments and models we develop to enable the business to act will be at the heart of any program.
Without these, any loyalty scheme will struggle to deliver the expected business outcomes and decision science specialists, in partnership with the business, are essential for this to happen.
Hear more from loyalty experts
Watch our recent panel discussion on the future of loyalty, featuring loyalty, data, CRM, e-commerce and product experts from Boots, Currys, Natura & Co., We Are The Digital Type and Whitbreads–in our special digital loyalty insights hub.