Why I am proud to be a Badger
This Pride Month, I take a look at the reasons to be encouraged by the progress made and why working for Red Badger is a reason to feel proud.
---
The time of year is upon us when Pride fever takes over; preparations are underway for the annual parade, and companies dutifully replace logos to include the famous rainbow flag to show they are allies.
To my mind, Pride has become pretty mainstream. I hope the majority of people are aware of why it exists - it isn't just a big old street party for the LGBTQ+ community to dance flamboyantly in the streets but a celebration of equality, how far we have come and how far, as a society, we have yet to go.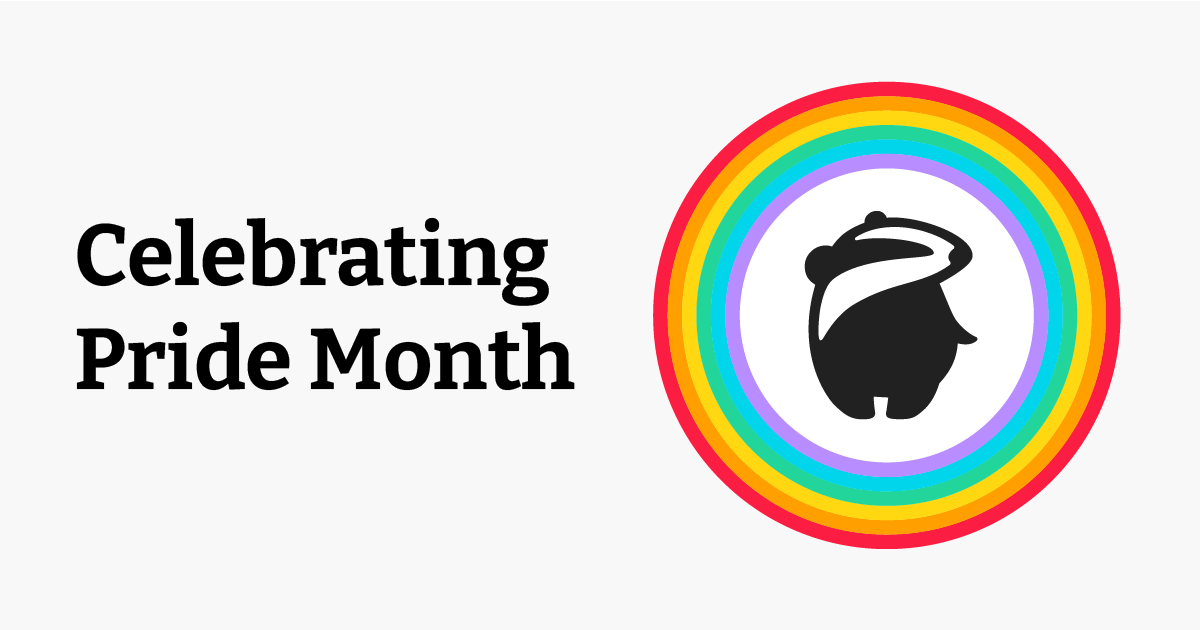 Remembering how far we've come
This year, more than any other, I have been reflecting on my own journey as a member of the LGBTQ+ community, spurred on by Red Badger's desire to join Stonewall's Diversity Champions Programme.
I consider myself extremely fortunate to have grown up in a time and a place where I can be myself and feel safe to do so where I live, around my friends and in the place I work, and this year it really hit home.
During LGBTQ+ History month in February, a few work colleagues and I attended workshops run by Stonewall about creating lasting change, specifically what we can do in the workplace.
I hadn't given too much thought about attending, but about 5 minutes in, I had an overwhelming realisation that I was at my office attending this session learning about a topic that once I was too scared to even talk about.
It made me proud of how far I had come from being a teenager, convinced that if anyone ever found out I was gay, I would be cast out by my friends and family.
I was totally choked up!
Challenges without LGBTQ+ role models
The session went on to talk about the history of LGBTQ+ discrimination and rights when I had my second significant realisation.
I was a child of Section 28, and because of this, as a gay man, I had been starved of learning about a history that directly affected me and had an upbringing void of role models to look up to and be inspired by.
My only exposure to 'people like me', was the stereotypes played out on TV, which I was unable to relate to. The way these characters were treated was rarely very positive, and it perpetuated how I thought I would be treated should I come out.
It might not be obvious to everyone, but coming out is not just something you do once. It happens pretty much every time you meet a new person and can be, depending on the situation, a difficult or triggering experience.
Over the years it has become easier and almost a matter of fact, but the workplace has, for me, been the trickiest to tackle. "I have to work with these people; what if they have a problem with me?"
Another example is when someone assumes you have a girlfriend or a wife, and you have to correct them, which can be awkward.
If you believe you are the only person who is not 'normal', it can cloud how you think and feel. Knowing you are safe and accepted changes everything.
The joy of working for an inclusive company
Red Badger has been, by far, the best place I have worked as an openly gay man. I have never felt judged or discriminated against for being me.
From the language people use - "Do you have a partner?" - to having LGBTQ+ role models who have inspired me and made me feel safe and included.
Having been supported by Red Badger in my journey from a Software Engineer to a Technical Director, I realise I perhaps am now one of these role models, and why I felt it important to share part of my story both at a recent company meeting and in this blog.
My story is my own, and everyone has wildly different experiences which are deeply personal and varied in terms of acceptance and trauma, so I can't speak for everyone.
For me, it's been quite a journey to go from those incredibly difficult teenage years to where I am today, and it has taken many supportive family members, friends, colleagues, and employers.
Now I'm proud to say I work at a place that is a Stonewall Diversity Champion and rolling out allyship training across the company.
We previously worked with Pride in London to build out its mobile app and this year we are hosting a company social at the Pride in London parade.
All of this makes a monumental difference in how I see and feel about myself. It's taken many years to achieve self-acceptance, with some way still to go.
However, I can proudly say that I am proud to be a Badger because it is a place that supports me in being proud of who I am.
Want to join a more diverse and inclusive workplace?
We are hiring, so please do take a look at our jobs board to see if there is an opportunity with your name on it.
Red Badger is committed to creating a diverse and inclusive environment and is proud to be an equal opportunity employer. We hire, employ, train, promote and compensate regardless of gender, gender identity, race, disability, sexual orientation, age, creed and colour.
We respect and care for each other, giving us all the space to be our true selves.
As a company, we are fully focused on equality, and it is our fundamental belief that the fascinating characteristics that make us all different enable us to grow and continue to do amazing work for our clients.